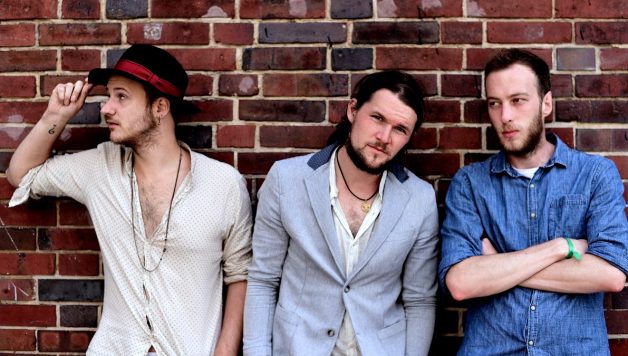 The Trouble Notes | Off The Record
▷ Letzte Änderung: 2017-02-27
On Air:
28th of february 2017, 10pm
This week on Off The Record the indie world fusion trio The Trouble Notes drops by to talk about their upcoming EP and release party at Lido on 1st march, naked guitarists and staying true to yourself.


Name:
Mission / Passion:
Our passion is traveling and connecting with different people and cultures through music. We try to fuse different cultural genre together to tell stories about our experiences and the human condition. That's why you'll often find us playing in the streets (when it's not so cold!) because it's our way of standing eye level with the people of a city and having an unexpected musical conversation.
Why are you here?
Because we love you! But also because all these years of traveling have finally led to us putting together some killer recordings at Riverside Studios Berlin. We worked with an excellent team of producers and guest musicians and have put together something truly special! Thus, we have released a few of the recordings as a part of an EP called Grand Masquerade on 24th February, 2017 and will have a BIG release party at Lido in Berlin on 1th march to celebrate!
Where can we see/meet you next?
1st March at Lido Berlin for our release concert!
What else should we know about you?
We're an international crew, all coming from different places, backgrounds and perspectives. This is one of the main reasons why our music is able to take such a different form. Oh and our guitarist likes being naked.
Do you have an insider tip?
A common theme in our music is about staying true to yourself, about removing masks, challenging the status quo and breaking norms. Our song Grand Masquerade is about that internal struggle that a person endures when deciding whether to break free or live a life of masked conformity. In light of the stark division that seems to plague our society today, we need to keep this in mind and fight for not only ourselves, but all the mask wearers, that the burdens may be alleviated and we can remain true to ourselves. Remove your masks and be yourself and stand up for others so that they can do the same.
Off The Record
is hosted by
Elizabeth Rushe
and
Chris Morrin
. Catch the two hour English language show every Tuesday night (usually ..) from 10 p.m.!
On Off the Record, Elizabeth and Chris share their experience of living in Berlin, showcase new music from all genres, and highlight the best of Berlin's creative community. Off the Record regularly features guests whether writers, film-makers, bands, or bakers, to share their stories.
Contact Off The Record at offtherecord@fluxfm.de or via their official Facebook-Fanpage!
:infoboxelizabeth:
:infoboxchris: