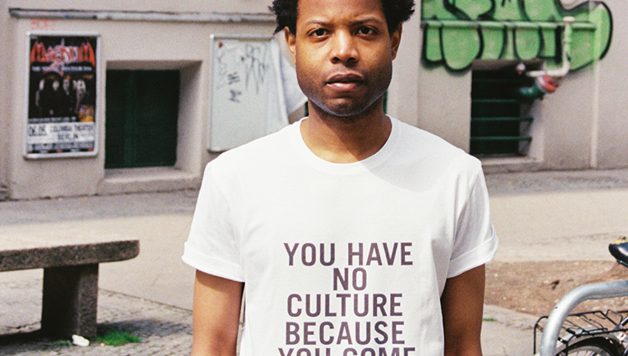 Isaiah Lopaz | Off The Record
▷ Letzte Änderung: 2016-12-06
On Air:
December 5, 10pm
This week's guest is Berlin-based artist and writer Isaiah Lopaz. Lopaz is an black American who has been living in Berlin for years, and has often been confronted with prejudice and racism. On Off The Record Isaiah will talk about his experience and his project to confront racism, Things You Can Tell Just By Looking At Him – a series of t-shirts printed with racist remarks and questions that have been directed at Lopaz.
---
Name:
Isaiah Lopaz
Mission / Passion:
Through my writing and my art I address issues of race and racism, using my experiences as a Black, gay, migrant to speak about the many ways that race impacts the lives of non-Whites.
Why are you here?
I am here today to speak about my blog Him Noir and to provide commentary on the experiences portrayed in the photographic series Things You Can Tell Just By Looking At Him.
Where can we see/meet you next?
This project will move across Germany, and will travel to France, Belgium, The Netherlandds, and the UK. I am currently in talks to develop a podcast about race, to potentially collaborate on a theater piece, and will be featured in an upcoming profile by Fusion Media.
What else should we know about you?
Isaiah Lopaz is an artist and author who has just completed the text for his first graphic novel Good Grief. He enjoys working with collage, designing record covers, and t-shirts.
Have you an insider trip?
Rosa Caleta is my second home. They serve the best Jamaican food in town. Rag and Bone Man is the most beautiful space to have a coffee and a romantic brunch. Forum Brasil has innovative and exciting events which are free and open to the public.
:infoboxelizabeth:
:infoboxchris: