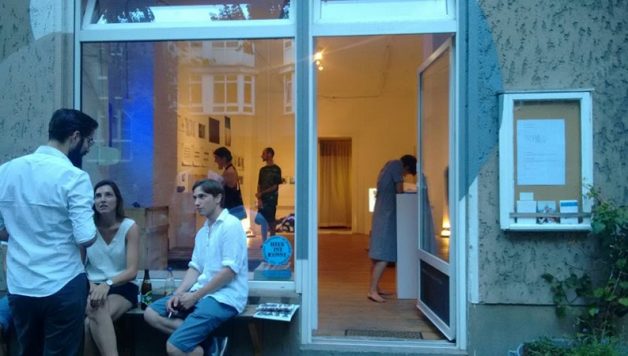 Studio Baustelle | Off The Record
▷ Letzte Änderung: 2017-04-25
On Air:
25th of April 2017, 10pm
This week on Off The Record: Monika Berstis and Janin Walter from Studio Baustelle. Opened in autumn 2011, the gallery in Neukölln hosts exhibitions, installations, performances, movie screenings, workshops and window displays. It features works that are created with limited resources and reclaimed material.

Find out more:
Name?
Mission / Passion?
Our mission is to offer an easy entry into art and break the stigma of the white cube situation. We like to make our space accessible. People pass by and look in the window, they're curious about what we do because it's not immeditely obvious looking in. We combine art shows with music, screenings, discussions and use the space for making things in the meantime. We try to include and invite the neighborhood. People who visit us come back to see what we're working on next.
We have day jobs and manage in the evening. We think it's important to find a balance with our work lives, and our art brings something to our day jobs as well, they reinforce each other. We also want to spread the message that you don't need to be a trained artist to make art.
This also translates to the media we use, we use materials available to everybody. We embrace analog resources as our world is too digital. We miss the tactile experience. Our business card reads kunst, experimente, analog, we like to see what emerges from the analog.
Why are you here?
Why Berlin? We all came to Berlin in the end because it's such an inspiring city.
We're here at Baustelle because we need a physical space to invite people, and to perform experiments.
Where can we see/meet you next?
Knock on the window!
…also:
26 – 28 May, an exhibition about mobility, a spatial installation
Check out our website for more!
Something else we should know about you?
We offer residencies for artists from other countries and collaborate with art spaces abroad. We're currently organizing an international cooperation with Oman.
Also, we like to open our doors to other artists and share the privilege of having a space to show and discuss ideas.
Artists who want to exhibit with us can email us and we can discuss their ideas.
Do you have an insider tip?
There's an art space around the corner in the show window of the previous Karstadt, run by Stephanie Zuthun Undlassen. DONAU ECKE GANGHOFER. She hosts changing exhibits you can have a look at from the street!
:infoboxelizabeth:
:infoboxchris: