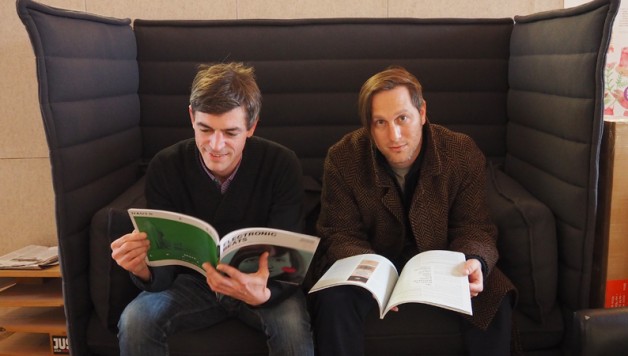 The Radio Sessions – Electronic Beats On Air mit A.J. Samuels
▷ Letzte Änderung: 2015-01-19
Im Radio:
22. Januar 2015, 22-24 Uhr
A.J. Samuels ist der neue Chefredakteur des Electronic Beats Magazins und stellt die wichtigsten Themen der neusten Ausgabe mit Karen O, der No-Wave Band Swans und einem Rollerskate special vor. Denn in dieser Ausgabe gibt es einen interessanten Text über den Einfluss von Rollerskate-Parks auf die amerikanische House- und Hip Hop-Bewegung.
"Massachusetts-native A.J. Samuels recently took over as editor-in-chief at Electronic Beats Magazine after four years as deputy editor under Max Dax. For his first EB Radio mix he stuck to gems from the recent Winter 2014/15 issue, which covers everything from Michael Gira's thoughts on the sexual behavior of whales and Belgium's rich history of electronic music to how African-American roller skating communities changed dance music. For maximum enjoyment, listen while reading. Featuring tracks by: Afrikan Sciences, Carlos Perón, RP Boo, Alicia Myers, C.J. Bolland, Earth, Deutsche Wertarbeit, DJ Spanish Fly and more…"
---
Tracklist 1. Stunde
1. The Magnetic Fields – Fido, Your Leash Is Too Long
2. Earth – From The Zodical Light
3. Mary Jane Girls – All Night Long
4. Keezo Kane – Ga Ga Ga
5. RP Boo – Speakers R 4
6. Swans – Just A Little Boy (For Chester Burnett)
7. Carol – Breakdown
Tracklist 2. Stunde
1. Afrikan Sciences – "Circuitous"
2. Ledger Smith vs. Intercity Rheingold
3. RP Boo – "There U'Go Boi"
4. Arca – "Xen"
5. DJ Spanish Fly – "Cement Shoes"
6. Chris Brown feat. Usher and Rick Ross – "New Flame"
7. Deutsche Wertarbeit – "Auf Englesflügeln"
8. Carlos Péron – "Nothing Is True, Everything Is Permitted"
9. Craig Leon "Details Suggest Fidelity to Fact"
10. Carol – "Breakdown"
11. Alicia Myers – "Here's the Ticket"
12. C.J. Bolland – "Camargue"
13. Earth – "From the Zodiacal Light"
Die zweite Stunde – den DJ-Mix – gibt es demnächst On Demand bei Electronic Beats Radio.
:ebpromo:
:infoboxmathi: