Throws live bei FluxFM | FluxFM Sessions
▷ Letzte Änderung: 2016-06-15
Die Vorstellung eines verlassenen, stillgelegten Fischereihafens im Norden von Reykjavik klingt schon irgendwie nach Horrorfilm-Kulisse. Genau da haben die ehemaligen Masterminds von Tunng, Mike Lindsay und Sam Genders, ihre Zelte aufgeschlagen, um am Debütalbum ihres neuen Projektes Throws zu werkeln. Ziel der beiden Musiker war es, diesmal etwas völlig andereres als bei Tunng zu machen – was ihnen auch gelungen ist, zum Beispiel singt Sänger Mike Lindsay in einem für ihn eigentlich untypischen Falsetto.
Die Platte ist gerade erschienen und heißt ebenfalls Throws. Wir haben die beiden zusammen mit ihrem Drummer zu Besuch gehabt und sie haben für euch zwei wunderbare Akustiksessions in unserem Studio eingespielt. Lehnt euch zurück und lasst euch mitnehmen in den verschwurbelten, isländischen Throws-Sound. Ihre erste Singleauskopplung heißt passenderweise The Harbour.

Mike Lindsay sagt über den Song:
The Harbour is the first song on our debut record, called Throws. We made the album in an old fishering harbour in Reykjavik and there's one café which is really only frequented by odlschool fishermen and it's beautiful. You kind of have the cheapest coffee and sit outside, looking at the window. That was kind of were the chorus came from, me inside my head going: 'What's going on these days? What am I doing here?' Then Sam came and made me feel better. The song is more about taking all the imperfections about being a human being, finding something good about those things and becoming some sort of superstar…
Interview mit Sam Genders & Mike Lindsay von Throws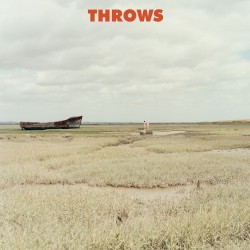 FluxFM: After the third Tunng-LP Sam Genders quitted. So the collaboration of the two founders ended. Now, ten years later, he and Mike Lindsay are back together as Throws. What's the story behind that?
Sam Genders: I always thought that I would like to work with Mike again – not that I wouldn't wanna work with the other guys of Tunng, but I always felt that Mike and I had a really great working relationship in the studio.
Mike Lindsay: We finished the last Tunng record on the label and that's when we startet talking. Plus the first Tunng record was only me and Sam – so it was the idea to do something together again.
FluxFM: When you talk with the guys from Throws you get the impression that everybody is permanently drinking in Iceland. Indeed they found their new sound, which distinguishes them from Tunng, in the pub.
Sam Genders: When we made the album it was just a brilliant time, catching up, having a good time, having a few beers and then going back to the studio. And on one of those occasions I decided I was gonna channel my inner Prince and just tried some sort of falsetto vocals and Mike said 'That's it!! That's the sound!'
Mike Lindsay: Yeah, it was like we've found a direction that wasn't anything that we've done before.
FluxFM: The inner Prince, well said. So Sam is singing falsetto most of the time. Isn't that exhausting in the long run?
Sam Genders: I was worried about that, but actually it is easier to sing falsetto than my normal soft vocals. Maybe I am using a different part of my throat or something…
FluxFM: Throws recorded their debut in a small closed fishing port in Iceland. Did the environment influence the musical work?
Mike Lindsay: Yeah, I lived there for four years, but I had to come back to London. Iceland is a big part of my life and an inspiration. And it was the perfect place for us to meet after quite a few years of not even seeing each other.
FluxFM: Well that's romantic. After all this time you must have had a lot to talk about.
Mike Lindsay: It was totally romantic. We had a lot of things to talk about, because we hadn't seen each other properly in a long time. I had recently broke up with a relationship, which was the reason I was in Iceland. There was lots of talk about that. And the sun never went down. We kind of caught up on each other's life for the past seven or eight years. And that's kind of how the album became the album, I think and in a way that's what the lyrics are based on our conversations over that time.
FluxFM: Sam Genders is neatly wearing a suit with a tie, Mike Lindsay is dressed casually with a white shirt and jeans. What ties them together is their obsession for music. Would you consider yourself as music nerds?
Mike Lindsay: Sam brings the poetic beauties. I think, nerds is a strong word to describe what me and Sam are. I know we're both obsessed with writing and producing music on a daily basis. I'm quite nerdy about this Neumann microphone, but I couldn't tell you who was in the Top 40 charts at the moment. I always dig for records, but I like old gear more.
FluxFM: After all these years, what do you do when you meet again? Enjoying a drink or two?
Sam Genders: Actually, not always. Normally it's a bit of going to a pub after sessions, winding down and celebrating, but generally over the years I haven't really found drinking to help the creative process that much in the studio. But this time it was different, wasn't it? It was like being a teenager, having a beer and then picking up the guitar.