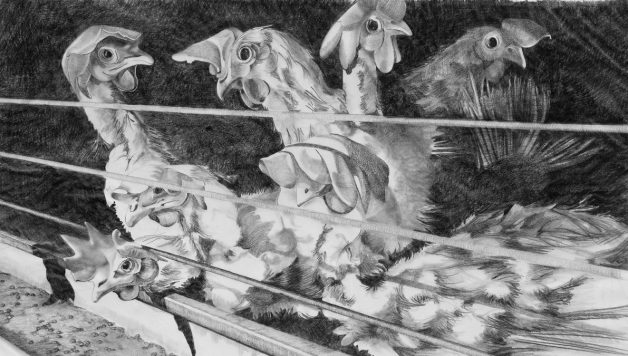 Eve Parnell | Off The Record
▷ Letzte Änderung: 2017-01-31
On Air:
31. January 2017, 10pm
This week on Off The Record, Elizabeth and Chris are happy to have the Irish artist Eve Parnell as their guest. For her current exhibition Vernehmt und lasst mich Traum so Wahrheit singen – Let Me Sing Dreams As Words Of Truth, running from 31. january till 26. february at Humboldt University, she takes inspiration from Hitler assassination plot leader von Stauffenberg. To find out more, tune in…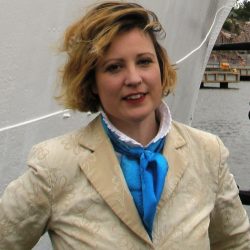 Name:
Mission / Passion:
Artist, History, Current Affairs
Why are you here?
Important solo art exhibition at Humboldt University
Where can we see / meet you next?
Afternoon Monday 30 January, all day Tuesday 31st January, morning 01 February. I visit Berlin frequently and will be back around February 26.
What else should we know about you?
Graduate of the National College of Art and Design Ireland with a degree in Fine Art, my work is in several important Collections, for example The Pontifical Council for Culture where my work is on display in the Vatican City, the Collection of HRH The Prince of Wales, my work has been exhibited in solo shows in Rome, Helsinki, Berlin, Burgwedel, Belfast, Stratford upon Avon (UK) and around Ireland.
I like unusual places to exhibit my work for example in Finland my exhibition was on the Finnish people's favourite Tall Ship, and in Belfast last year I exhibited in the Northern Irish Parliament Building, Stormont, commemorating the centenary of Ireland's Easter Uprising against the British who were occupying the country for 700 years, while at the same time commemorating the sacrifices of the First World War in the trenches in Europe, with sensitivity I addressed this delicate subject matter in the context of Northern Ireland and I was greeted with great welcome, my drawings were also embraced with wonderful feedback, the exhibition was another great success!
Do you have an insider trip?
Yes, I am a true Artist, follow me!
---
Off The Record is hosted by Elizabeth Rushe and Chris Morrin. Catch the two hour English language show every Tuesday night (usually ..) from 10 p.m.!
On Off the Record, Elizabeth and Chris share their experience of living in Berlin, showcase new music from all genres, and highlight the best of Berlin's creative community. Off the Record regularly features guests whether writers, film-makers, bands, or bakers, to share their stories.
Contact Off The Record at offtherecord@fluxfm.de or via their official Facebook-Fanpage!
:infoboxelizabeth:
:infoboxchris: