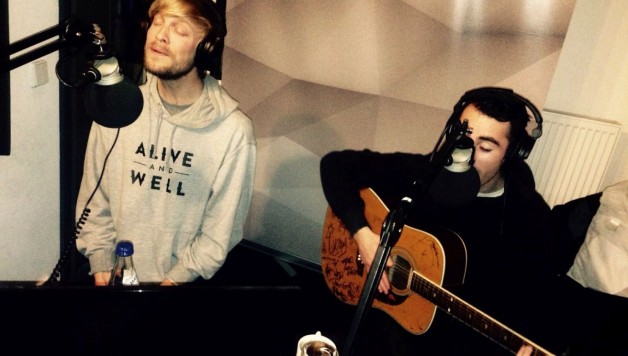 Iska Dhaaf | Off The Record
▷ Letzte Änderung: 2015-12-16
On Air:
15th of december 2015, 22pm
This week on Off the Record, Elizabeth and Chris have very special guests, Nathan and Benjamin from the band Iska Dhaaf all the way from Brooklyn by way of Seattle, who just arrived in Berlin for a month long stay, and will play a special live set for us tonight!
AND we're giving away two tickets to Willis Earl Beal, playing Bi Nuu this Thursday 17th December, listen out for the two new tracks from his new album Noctunes. Oh and we're starting to play Christmas songs…
Name:
Iska Dhaaf


Your Passion / Your Mission:
Writing honest songs and connecting with people.


Why are you here?
We wanted to travel to Europe to write songs and play shows. Everyone said we must stay in Berlin. It has only been two days, but we're already loving it. We're excited to get to know the city and the people. We're going to try to learn as much German as possible.


Where could we see you live?
Our next performance is at Michelberger Hotel on NYE (http://michelbergerhotel.com/de/). It is FREE, but guests must RSVP. We're working on a few other performances at the moment and we'll be updating our website (iskadhaaf.com) and Facebook. Otherwise, we encourage folks to write us with suggestions for places to perform, places to go and things to see.


Something else we need to know about you?
We look forward to travelling and connecting with people around the world. Hopefully we'll keep coming back to Berlin for years.


Your advice:
Follow your intuition, if you have it. If you don't have intuition, try to find it.


Off The Record is hosted by Elizabeth Rushe. Catch the two hour english language show every tuesday night (usually ..) from 10pm!
Elizabeth plays all sorts of great alternative music, from Indie to folk to punk to electronic, tells some pretty cringe-inducing jokes, and gives you the latest news inside and out of the music and cultural scene in Berlin and beyond. And Exberliner – Berlins English Language Magazine, is giving you the best tips for spending the night.
Contact Off The Record at offtherecord -at- fluxfm.de or via their official Facebook-Fanpage!
:infoboxelizabeth: