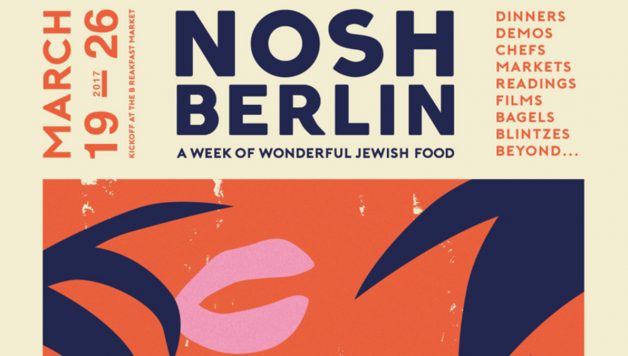 Liv Fleischhacker from Nosh Berlin | Off The Record
▷ Letzte Änderung: 2017-03-20
On Air:
21 March 2017, 10pm
This week on Off The Record: Liv Fleischhacker. The Berlin based journalist is usually writing for magazines such as Vice Munchies, Mixology or Brew Berlin but she's been doing lately is something completely different: she co-organises Nosh Berlin, the city's first ever Jewish food week that will take place from March 19-26, 2017 all around the city.
Drawing locally and from abroad, Nosh Berlin will be a wonderful week of Jewish cooking from across Berlin and across the diaspora. Taking place at locations around the city, this will be a week of cooking classes, meals, markets, demos from amazing chefs, film showings, music, shabbat dinners, and more. It's about both embracing traditional food and showcasing contemporary Jewish cooking in Berlin, about stuffing ourselves, teaching ourselves, sharing ourselves, and, generally, having a good nosh in the home of a growing Jewish food scene.
Name:
Liv Fleischhacker
Mission / Passion:
Good food / good drinks / good people
Why are you here?
To promote Berlin's first ever Jewish Food Week (Nosh Berlin) that I'm co-organising with Laurel Kratochvila of Fine Bagels.
Where can we see/meet you next?
At Nosh! Specifically at all the great events we've got lined up for this week. I'm particularly excited about the Gefilte Ball on Thursday.
What else should we know about you?
I laugh at my own jokes more than anyone else does.
---
Off The Record is hosted by Elizabeth Rushe and Chris Morrin. Catch the two hour English language show every Tuesday night (usually ..) from 10 p.m.!
On Off the Record, Elizabeth and Chris share their experience of living in Berlin, showcase new music from all genres, and highlight the best of Berlin's creative community. Off the Record regularly features guests whether writers, film-makers, bands, or bakers, to share their stories.
Contact Off The Record at offtherecord@fluxfm.de or via their official Facebook-Fanpage!
:infoboxelizabeth:
:infoboxchris: