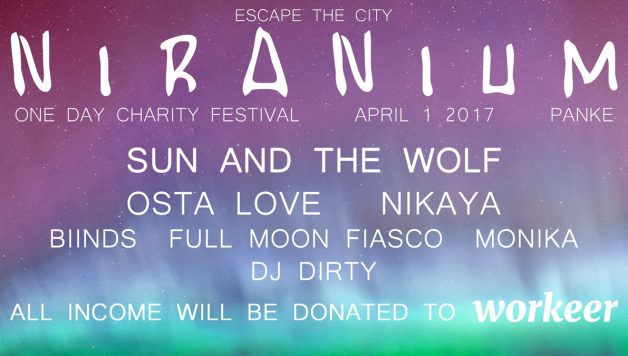 NIRANIUM | Off The Record
▷ Letzte Änderung: 2017-03-27
On Air:
28 March 2017, 10pm
This week on Off The Record: Nira Cole, initiator of NIRANIUM, a one day festival for Berlin's underground Rock'n'Roll scene. It takes place at Panke Culture on April 1 and all of the festival's generated income will be donated to Workeer, a charity organisation and job seeker platform for refugees.

---
Name?
Nira Cole
Mission/passion?
To bring more live rock music to Berlin and establish a better network in this scene.
Why are you here?
To tell the amazing Berliner folk that the festival NIRANIUM is happening on the 1st of April at Panke Culture in Wedding, to raise funds for the charity organisation Workeer, the job seeker platform for refugees, which was founded by students from the HTW.
The line up are Berlin based bands from the rock genre: Monika, BIINDS, Full Moon Fiasco, Nikaya, Osta Love & Sun and the Wolf.
Where can we see/meet you next?
At Nirnaium on the 1st of April at Panke Culture of course. Doors are at 16:00. The entry price is 15€ on the day, and 10€ on the early bird sale.
What else should we know about you?
I am an event manager and band booker and established myself in Berlin 5 years ago. I run a club night with live music in Prenzlauerberg called Anyone Can Play Guitar and book gigs all around Berlin.
Do you have an inside tip?
Well, I think it's an ever changing field, but be passionate about what you do and know how to motivate other people to be passionate about it too.
---
Off The Record is hosted by Elizabeth Rushe and Chris Morrin. Catch the two hour English language show every Tuesday night (usually ..) from 10 p.m.!
On Off the Record, Elizabeth and Chris share their experience of living in Berlin, showcase new music from all genres, and highlight the best of Berlin's creative community. Off the Record regularly features guests whether writers, film-makers, bands, or bakers, to share their stories.
Contact Off The Record at offtherecord@fluxfm.de or via their official Facebook-Fanpage!
:infoboxelizabeth:
:infoboxchris: