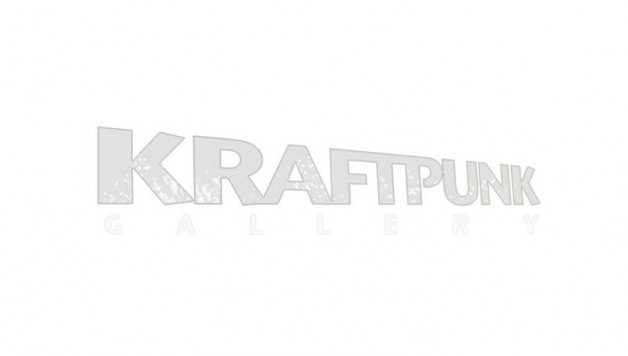 Radio Arty: Nomad
▷ Letzte Änderung: 2014-08-07
Im Radio:
7. August 2014, 19 Uhr
11. August 2014, 24 Uhr
Kraftpunk Gallery is all about DIY culture, punk, skateboarding and street art. Both project room and gallery, curator Nomad presents his latest artworks, plus there's also going to be music.
In the heart and centre of new creative Berlin, not far from Schlesisches Tor, KRAFTPUNK gallery will open its doors for the first time in history. KRAFTPUNK is a transglobal Artprojekt , deeply based in the DIY , Punk , Skateboarding and Streetartculture of the past and future. It will be a projectroom , gallery presenting the hottest (Urban) Artists from Berlin to L.A. with the aim to present and sell groundbreaking but always affordable art without the shabby attitude of intellectualism.
The first show will present a selection of Berlins finest DIY Artists – among them such legends as : 44 Flavors , Mymo , Patrick Farzar and KRAFTPUNK host and curator – Nomad. All Artworks will be sold and presented only and exclusively that evening and all benefits will go 100% to the Artists , so plunder your accounts and bring some cash + buy art for Christmas !
---
In his works Nomad (1970) connects his sensitive artistic side with the ornamental style of his street art and the graphic with the sketchy. There are clearly influences from classical painting, in particular from the Renaissance period. As a result, Nomad's painting does not aim to be complete – it is a inventory of the here and now that adapts social reality and processes it multidimensionally. It retains the ease and aesthetic of his freely improvised work on the street.
The works exhibited by Nomad move to and between humorous ease and deep emotionality. Tragedy, love and emotion come up against humour, laissez-faire and improvisation. As a result, he uses on the one hand marker aesthetics in the form of lines, which express the human need for order. On the other hand, he lends his artworks an artistic component with coloured and sketchy elements, which symbolise the chaos of existence. The message is one of self-irony and a positive worldview, which are meant to encourage the observer to think.
Nomad is invited regularly to street art festivals, exhibitions and performances. He counts among the most enduring street artists in Berlin and the world. In the last six years he has painted 2000 to 2500 rubbish objects, which were quickly snapped up off the street by passionate collectors. In the summer of 2009 Nomad worked with American actor Ashton Kutcher to paint the roof of Planet Hollywood in Las Vegas. The large-scale art campaign received international attention.
:infoboxyaneq: