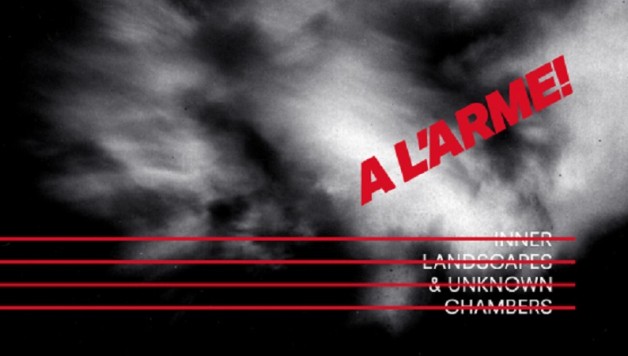 A L'ARME! Festival with Louis Rastig | Off The Record
▷ Letzte Änderung: 2016-07-27
On Air:
July 26, 10pm
This week on Off The Record, Elizabeth and Chris are happy to have Louis Rastig as their guest. He's the artistic director of the A L'ARME! Festival. The fourth edition titled Inner Landscapes & Unknown Chambers takes place from 27. – 30. July at Berghain and Radialsystem.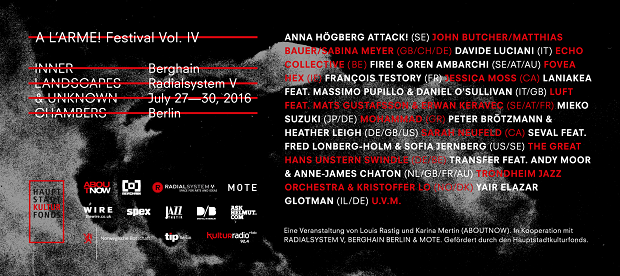 Name
Louis Rastig, artistic director of A L'ARME! Festival
Mission / Passion
Music is the healing force of the universe! Let us come together and share some good energies at Berghain and Radialsystem this week!
Why are you here?
I'm here to strongly recommend you not to miss the hottest festival for contemporary sounds and music in town! A L'ARME! is all about the call to arms of freedom! The essence of avant-garde jazz in the 21. century: free music & electro-acoustic sounds for body and soul — to make our inner landscapes & unknown chambers come to life!
Where can we see / meet you next?
You can meet me tomorrow (27th July) at Berlin's mighty Berghain. As artistic director of A L'ARME! I cannot wait to start it all up with a little help from my friends — Canadian star-violinst Sarah Neufeld playing solo, sound-artists Daniel O'Sullivan & Massimo Pupillo presenting "Laniakea" and Swedish jazzrock trio FIRE! with special guest Oren Ambarchi from Australia on electric guitar!

Have you an insider tip?
Good music should always go hand in hand with an uncompromisingly high culinaric quality! Therefore I can recommend you the Berlin-based catering duo Piechas im Radialsystem run by the two sisters Ulrike & Noni Piecha offering regional, fresh and organic slow-tech food with river view on the Spree terrace of Radialsystem V! Each day this week starting at 6 PM, accompanied by some exclusive wine tasting by Fiegl wines!
---

Off The Record is hosted by Elizabeth Rushe and Chris Morrin. Catch the two hour English language show every Tuesday night (usually ..) from 10 p.m.!
On Off the Record, Elizabeth and Chris share their experience of living in Berlin, showcase new music from all genres, and highlight the best of Berlin's creative community. Off the Record regularly features guests whether writers, film-makers, bands, or bakers, to share their stories.
Contact Off The Record at offtherecord@fluxfm.de or via their official Facebook-Fanpage!
:infoboxelizabeth:
:infoboxchris: