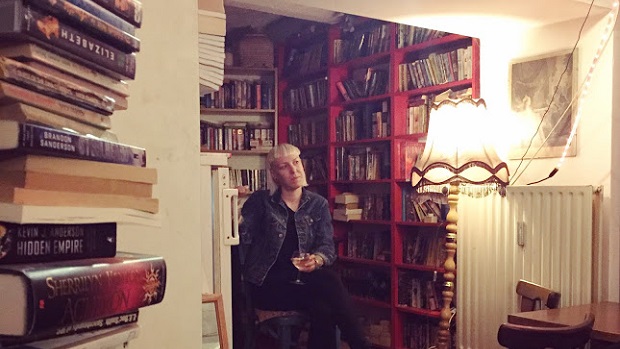 Club Motte | Off The Record
▷ Letzte Änderung: 2016-09-27
On Air:
September 27, 10pm
This week on Off The Record, Elizabeth and Chris are happy to have Maree Hamilton as their guest. She is running the monthly storytelling event Club Motte.

Name:
Maree Hamilton
Mission / Passion:
I'm passionate about story telling and story listening.
Why are you here?
I'm here to talk about Club Motte, the monthly storytelling event I run at Another Country Bookstore in Berlin. It's an event where anyone can volunteer to tell a true story that relates to the night's theme.
Where can we see / meet you next?
Wednesday, Sept. 28th at Another Country Bookstore (Riemannstraße 7 in Kreuzberg) at 20:00. All of our events take place on the last Wednesday of the month.
What else should we know about you?
Even if you don't have a story, I would still love to see you at Club Motte. It's a great opportunity to sit back, relax, and just listen (and drink a beer too).
Do you have an insider trip?
Another Country Bookstore is an English bookstore that also lets you "rent" certain books. So you pay a small fee for a book, and then can bring it back.

Off The Record is hosted by Elizabeth Rushe and Chris Morrin. Catch the two hour English language show every Tuesday night (usually ..) from 10 p.m.!
On Off the Record, Elizabeth and Chris share their experience of living in Berlin, showcase new music from all genres, and highlight the best of Berlin's creative community. Off the Record regularly features guests whether writers, film-makers, bands, or bakers, to share their stories.
Contact Off The Record at offtherecord@fluxfm.de or via their official Facebook-Fanpage!
:infoboxelizabeth:
:infoboxchris: