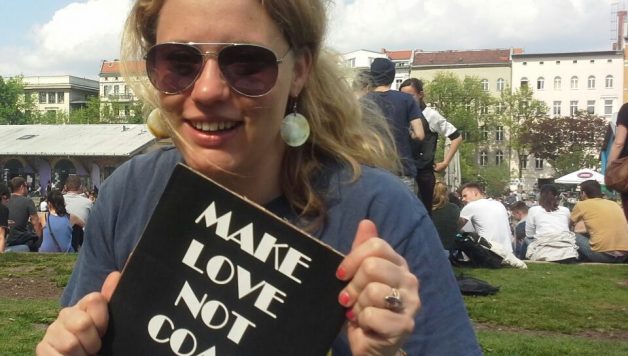 Stop CETA & TTIP| Off The Record
▷ Letzte Änderung: 2016-09-19
On Air:
September 20, 10pm
This week on Off The Record, Elizabeth and Chris are happy to have Charlene Wolf as their guest. She was organising the Stop CETA & TTIP demonstration in Berlin.
Name:
Charlene Wolf
Mission / Passion:
Love, Peace and Sustainability
Why are you here?
Because I was coordinating and organizing the Stop CETA & TTIP ("CETA & TTIP Stoppen") demontration on Sept. 17th in Berlin
Where can we see/meet you next?
At the Demo – next to the front banner during the march and backstage afterwards – I am the one with two phones and a walkie talkie. Towards the end I'll hopefully have time to enjoy the Wegbassen truck.
What else should we know about you?
As a kid I wanted to be a pirate. After figuring out that 21st century pirat'ism isn't nearly as cool as back in days anymore – I became an activist.
Have you an insider tip?
Everyone who wants to get involed in world-saving is going to find his or her perfect organisation or spot and anyone can contribute – nobody needs to climb lignite diggers and nobody has to write press releases if they don't like to.

Off The Record is hosted by Elizabeth Rushe and Chris Morrin. Catch the two hour English language show every Tuesday night (usually ..) from 10 p.m.!
On Off the Record, Elizabeth and Chris share their experience of living in Berlin, showcase new music from all genres, and highlight the best of Berlin's creative community. Off the Record regularly features guests whether writers, film-makers, bands, or bakers, to share their stories.
Contact Off The Record at offtherecord@fluxfm.de or via their official Facebook-Fanpage!
:infoboxelizabeth:
:infoboxchris: